The Silver Revolver was a revolver that was exclusively used by Aline Cedrac on her journey to Shadow Island, and was her starting weapon. It was weaker in some aspects than Carnby's customized revolver, but it was still able to use the light producing ammo on the island in order to use the weapon to sucessfully combat against the creature on the island. It could hold 6 bullets and fire 1 bullet at a time.
Expansion required

This article is too short to provide more than rudimentary information about the subject. You can help

Alone in the Dark Wiki

by

expanding it

.

This template will categorize articles that include it into Category:stub.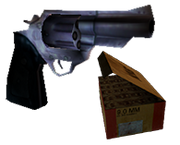 Ad blocker interference detected!
Wikia is a free-to-use site that makes money from advertising. We have a modified experience for viewers using ad blockers

Wikia is not accessible if you've made further modifications. Remove the custom ad blocker rule(s) and the page will load as expected.