The Captain Nichol's sword was a special sword that was essential in defeating One-Eyed Jack.
The sword once belonged to Captain Nichol, who was a captain aboard the ship where Elisabeth Jarret was taken prisoner. When the pirates led by Captain Jack attacked and took over, the Captain Nichols declared that his sword would be the one to strike him down, before falling off the plank. The sword has since been stuck implanted blade on the deck of the Flying Dutchman and has not been moved.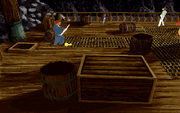 Compared to the other swords, this oen is more fancier in appearance, as befits a weapon belonging to a captain. It features a purple? and blue colour, and features a hilt.
Expansion required

This article is too short to provide more than rudimentary information about the subject. You can help

Alone in the Dark Wiki

by

expanding it

.

This template will categorize articles that include it into Category:stub.
Internal Links
Edit
Ad blocker interference detected!
Wikia is a free-to-use site that makes money from advertising. We have a modified experience for viewers using ad blockers

Wikia is not accessible if you've made further modifications. Remove the custom ad blocker rule(s) and the page will load as expected.