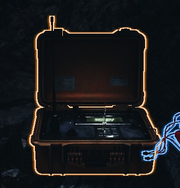 The Detonator was animmovable object that was a big red box which required Explosive Charges. After the charges have been set and the detonator itself armed, the player needs to go a fair distance away or else become injured from the explsoion.
First seen at the bottom of the mine in Perilous Descent, at the bottom level of the mine, where it requires three explosive charges to destroy the rubble that is blocking the entrance to the safehouse.
In the hollow catacombs, another detonator is found in order to blast open another wall that was blocking the way, but this time requires only one explosive charge.
Expansion required

This article is too short to provide more than rudimentary information about the subject. You can help

Alone in the Dark Wiki

by

expanding it

.

This template will categorize articles that include it into Category:stub.
Ad blocker interference detected!
Wikia is a free-to-use site that makes money from advertising. We have a modified experience for viewers using ad blockers

Wikia is not accessible if you've made further modifications. Remove the custom ad blocker rule(s) and the page will load as expected.