Engraved Cube
Type
Key
Effects
access to Hybrid Elder's holding tank in Library
The Engraved Cube was a cuboid object that reaveals itself inside the movie projector inside Alan Morton's Office, after inserting the glass prism and watching the movie reel of Alan experimenting on his father. It was engraved with the words "LIBRARY 3D MAP" as well as some numbers that when used on the false books on one of the shelves, it opens a secret space within one of the book shelves, which includes a lever that reveals the holding tank that contains the Elder hybrid.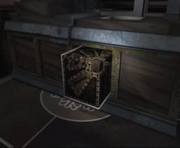 Expansion required

This article is too short to provide more than rudimentary information about the subject. You can help

Alone in the Dark Wiki

by

expanding it

.

This template will categorize articles that include it into Category:stub.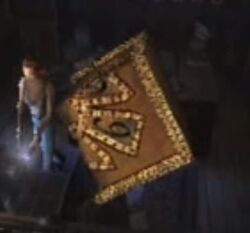 Ad blocker interference detected!
Wikia is a free-to-use site that makes money from advertising. We have a modified experience for viewers using ad blockers

Wikia is not accessible if you've made further modifications. Remove the custom ad blocker rule(s) and the page will load as expected.