The Flask is an item found in the first three Alone in the Dark games that replenishes health of the playing character. It is usually discovered inside First Aid Cases. After opening/searching the item, the player can drink the flask, thus replenishing health.
Alone in the Dark 2
Edit
The Flask can replenish carnby's health by 10 points.
Expansion required

This article is too short to provide more than rudimentary information about the subject. You can help

Alone in the Dark Wiki

by

expanding it

.

This template will categorize articles that include it into Category:stub.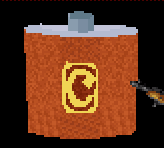 Alone in the Dark 3
Edit
The Flask in the third game is similar in shape to the one in 2, however, it is silver in color.

Ad blocker interference detected!
Wikia is a free-to-use site that makes money from advertising. We have a modified experience for viewers using ad blockers

Wikia is not accessible if you've made further modifications. Remove the custom ad blocker rule(s) and the page will load as expected.