The Indian statue heads were two objects that are found by Edward Carnby and Aline Cedrac in Alone in the Dark: The New Nightmare.
The New Nightmare
Edit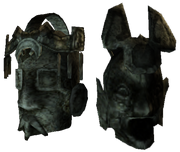 There are three statue heads in total, and they should be placed on an Abkanis altar to open the portal to the kingdom of darkness leads outside. A you will find it already positioned in its place the other two must be found: Carnby find its in the cave in which collides with AlanShad; Aline instead find it in the Indian temple in the basement, putting in place the Stone pyramid.
-In game files is the third model of this statue on the altar at the exit of the World of Darkness. Initially, it is likely that even that should be recovered to open the exit, however it is not clear which character would have done that.
Ad blocker interference detected!
Wikia is a free-to-use site that makes money from advertising. We have a modified experience for viewers using ad blockers

Wikia is not accessible if you've made further modifications. Remove the custom ad blocker rule(s) and the page will load as expected.