The Lightning Gun was a lightweight weapon in Alone in the Dark: The New Nightmare. It fires bolts of lightning at all enemies within range of ten feet. It is proven devastating to mostly all of the Creatures of Darkness and has a 180 degree arc of fire. It uses a battery charger as its power source like the Photoelectric Pulsar, while the battery charger uses luminescent crystals itself.
Description
Edit
The weapon was first developed by Jeremy Morton as a backup weapon to the Photoelectric Pulsar, but later became his primary weapon due to the pulsar's "bench tests".
Expansion required

This article is too short to provide more than rudimentary information about the subject. You can help

Alone in the Dark Wiki

by

expanding it

.

This template will categorize articles that include it into Category:stub.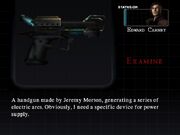 Ad blocker interference detected!
Wikia is a free-to-use site that makes money from advertising. We have a modified experience for viewers using ad blockers

Wikia is not accessible if you've made further modifications. Remove the custom ad blocker rule(s) and the page will load as expected.