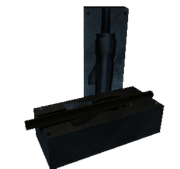 The mold is an object that is recovered from the Shadow Island Fort by Aline Cedrac in Alone in the Dark: The New Nightmare.
The New Nightmare
Edit
Aline locates one of the mold of metal cases closed with a chain (openable with the pincer) at the Fort. The object must be subsequently inserted into the foundry of Jeremy Morton's Laboratory together with the Steel Ingot so as to obtain the Perforator barrel.
Ad blocker interference detected!
Wikia is a free-to-use site that makes money from advertising. We have a modified experience for viewers using ad blockers

Wikia is not accessible if you've made further modifications. Remove the custom ad blocker rule(s) and the page will load as expected.