Photo of the Statue

Source
1st pirate gangster encountered in Hedge maze
The Photo of the Statue was a photo containing One-Eyed Jack and some of his lieutenants/ henchmen in front of a giant Statue of One-eye Jack. The significance of the photo was that one of the statue's hands were in a differnt place compared to the same statue currently, and that it was indicated that there was a secret door. It appears to have been ripped in half and then taped back on.

It is found on the possession of the first Pirate Gangster encountered and defeated in the Hedge Maze of Hell's Kitchen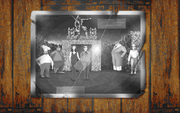 Expansion required

This article is too short to provide more than rudimentary information about the subject. You can help

Alone in the Dark Wiki

by

expanding it

.

This template will categorize articles that include it into Category:stub.
Ad blocker interference detected!
Wikia is a free-to-use site that makes money from advertising. We have a modified experience for viewers using ad blockers

Wikia is not accessible if you've made further modifications. Remove the custom ad blocker rule(s) and the page will load as expected.