The Photoelectric Pulsar was heavy weapon which was also one most devastating and potent weapons found on Shadow island. When the trigger was pressed the weapon would fire in 2 seconds, either killing or seriously injuring all of the shadow creatures in its field of vision. The downside to this was that the light issuing from the gun also temporarily blinds the wielder. Another serious downside was the weapon has a battery which automatically charges the weapon whilst it is reloaded or depleted. Despite its huge requirement for power, the amount of energy in the battery charges increases every time a special Luminescence crystal has been added.
Description EditEdit
This weapon was the crowning achievement which was created by Jeremy Morton. He created weapon when he noticed that some shadow creatures' resistance to light. This weapon generates a light similar to that of a nuclear flash. It was essentially a smaller version of the Photopulsar. Due to the requirement of energy needed for the weapon and its charging rate, it lead Jeremy Morton to develop the more economical Lightning Gun. Jeremy's father, Archibald, was said to have favored the Photoelectric Pulsar.
Expansion required

This article is too short to provide more than rudimentary information about the subject. You can help

Alone in the Dark Wiki

by

expanding it

.

This template will categorize articles that include it into Category:stub.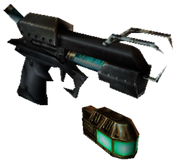 Ad blocker interference detected!
Wikia is a free-to-use site that makes money from advertising. We have a modified experience for viewers using ad blockers

Wikia is not accessible if you've made further modifications. Remove the custom ad blocker rule(s) and the page will load as expected.