Alone in the Dark Wiki: Alone in the Dark (2008)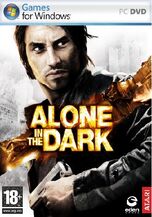 Welcome to Alone in the Dark's portal dedicated to Alone in the Dark (The 2008 version)!
The next reboot after The New Nightmare, the story maintains that this was the same Carnby as the one in the original series. Unlike the Lovecraft-elements from the previous games, the main antagonist is the fallen angel Lucifer, and all of his minions who he is able to control. The game was released on the XBox 360 and Playstation 3. Despite the game had mostly negative reviews. Although the game ended on a a cliffhanger, there was either not made or scrapped. Another iteration of the game, known as Alone in the Dark: Inferno was added more features and corrected some of the faults.
[

edit

]Contents
Characters




Chapters

Locations

Creatures

Items

Misc



Featured picture
One of the appearance of the Fissures, which act as the primary enemy in the 2008 Alone in the Dark game.
Templates
Ad blocker interference detected!
Wikia is a free-to-use site that makes money from advertising. We have a modified experience for viewers using ad blockers

Wikia is not accessible if you've made further modifications. Remove the custom ad blocker rule(s) and the page will load as expected.