Scoff

Gender
Male
Race
Human
Expansion required

This article is too short to provide more than rudimentary information about the subject. You can help

Alone in the Dark Wiki

by

expanding it

.

This template will categorize articles that include it into Category:stub.
Scoff was a henchman who, along with Hamlet, worked for Crowley.
Background
Edit
Involvement
Edit
  Scoff, along with Hamlet were interrogating an abducted Theophile Paddington and Edward Carnby, who was previously unconscious. When Carnby regained consciousness, Scoff used a torch to check his pupils. When Crowley arrived, he was ordered to take the drowsy Carnby up onto the rooftop to shoot him, while Crowley and Hamlet take Theo to the elevator. Whilst walking Carnby up the building's stairs, he became one of the first victims of the fissures.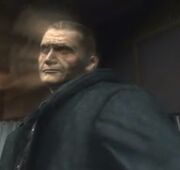 unlike his partner, Hamlet, he was not afraid of the cracks, telling Hamlet to calm down.
External links
Edit
Ad blocker interference detected!
Wikia is a free-to-use site that makes money from advertising. We have a modified experience for viewers using ad blockers

Wikia is not accessible if you've made further modifications. Remove the custom ad blocker rule(s) and the page will load as expected.