The scrip of Alan Morton is an object removed from the final version of Alone in the Dark: The New Nightmare.
Features
Edit
In the game files you can find a 3D model with its description of the scrip of Alan Morton. Presumably this is a backpack that one of the protagonists should have found in the World of darkness, which contains some useful resources to continue.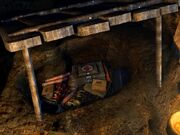 It can be assumed that the object has been removed in favor of the trap containing weapons, ammunition and medikit present at the entrance to the World of Darkness.
Ad blocker interference detected!
Wikia is a free-to-use site that makes money from advertising. We have a modified experience for viewers using ad blockers

Wikia is not accessible if you've made further modifications. Remove the custom ad blocker rule(s) and the page will load as expected.