| | |
| --- | --- |
| | Infobox needed |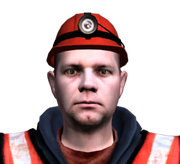 The Sewer Workers were two people who were minor characters in the 2008 Alone in the Dark game. Two operators of the sewers that meet Edward trying to get back to Central Park. The first of the two remains imprisoned in the midst of the dark liquid and, as soon as you turn off the only light that offered protection, will be incorporated by this. The second will suggest to Carnby to kill a group of Vampirez through the use of an electrical cable and then left in the sewers in search of his companions.
Ad blocker interference detected!
Wikia is a free-to-use site that makes money from advertising. We have a modified experience for viewers using ad blockers

Wikia is not accessible if you've made further modifications. Remove the custom ad blocker rule(s) and the page will load as expected.