Spiders are enemies in Alone in the Dark (1992) that appear in two sizes.
Small Spider
Edit
Six small spiders appear in the Forest Room, when the player finds the arrows in the statue of Artemis. These spiders are slow, but invincible.
Giant Spider
Edit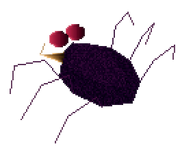 A giant spider is hiding in a hole in a circular room of the Cthonian Tunnels. It emerges as the player approaches, and will attack if the player gets in range.
Avoid the small spiders with quick backpedaling.
There is no known way to kill the giant spider, but the player can lure it to the pit it came from, causing it to fall and disappear.
The spiders in the Forest Room only have six legs.