The steel ingot is an object that is recovered from the strong Shadow Island by Aline Cedrac in Alone in the Dark: The New Nightmare .
The New Nightmare
Edit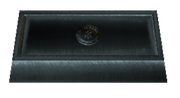 Aline is the ingot in one of two boxes sealed with a chain (that open with pincers ) at the fort, together with the laboratory key . The object is then placed in the workshop foundry Jeremy Morton after having put the mold . The ingot is then cast into the shape of the drill rod .
Expansion required

This article is too short to provide more than rudimentary information about the subject. You can help

Alone in the Dark Wiki

by

expanding it

.

This template will categorize articles that include it into Category:stub.
Ad blocker interference detected!
Wikia is a free-to-use site that makes money from advertising. We have a modified experience for viewers using ad blockers

Wikia is not accessible if you've made further modifications. Remove the custom ad blocker rule(s) and the page will load as expected.