For the location from where this level is based in, see Lorwich.
The Ghost Town was the first level of The Mines of Lorwich chapter in Alone in the Dark: Illumination and mainly consisted of the town of Lorwich.
Walkthrough
Edit
Section needed

This section is needed but has not been written yet. You can help

Alone in the Dark Wiki

by

writing it

.

The game starts at the train station platform of the town. The goal was to get to the safehouse on the other side of the town, and to collect three rolls of electrical wire to connect from the lightning conductor poles to the generator in the safe house.
Go to the Mine building entrance
Edit
You can either enter the train station building, or go to the other end of the railway, and open the wire gates.
Head through the houses to the other side of the town, where there is a building next to a church.
Head into the Mining entrance and head up to the safehouse doors.
Collect Electrical wire (4)
Edit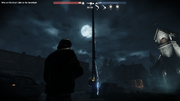 Find the electrical wire and put them on the poles, junction box and then to the generator itself.
The first wire is located next to the Safehouse doors (You need to use this wire in order to access the other ones, you can get the other wires in any order you wish)
Found inside the Church, next to the podium.
In the Wery Iron garage (head into the Wery iron compound until you find the building on the end- head inside it and it should be somewhere at the back of the building interior)
If you are able to enter the town through the Train station building, then the wire is located in the small room to the left of the room facing the railway. otherwise, it is located in what seems to be a tavern located opposite to the mining building.
last goal
Edit
Head back to the building, expect an ambush through the side doors.
Once finished with the level, head through the double doors into the safehouse room. Then activated the lever near the safehouse door to close the facility, ending the level.